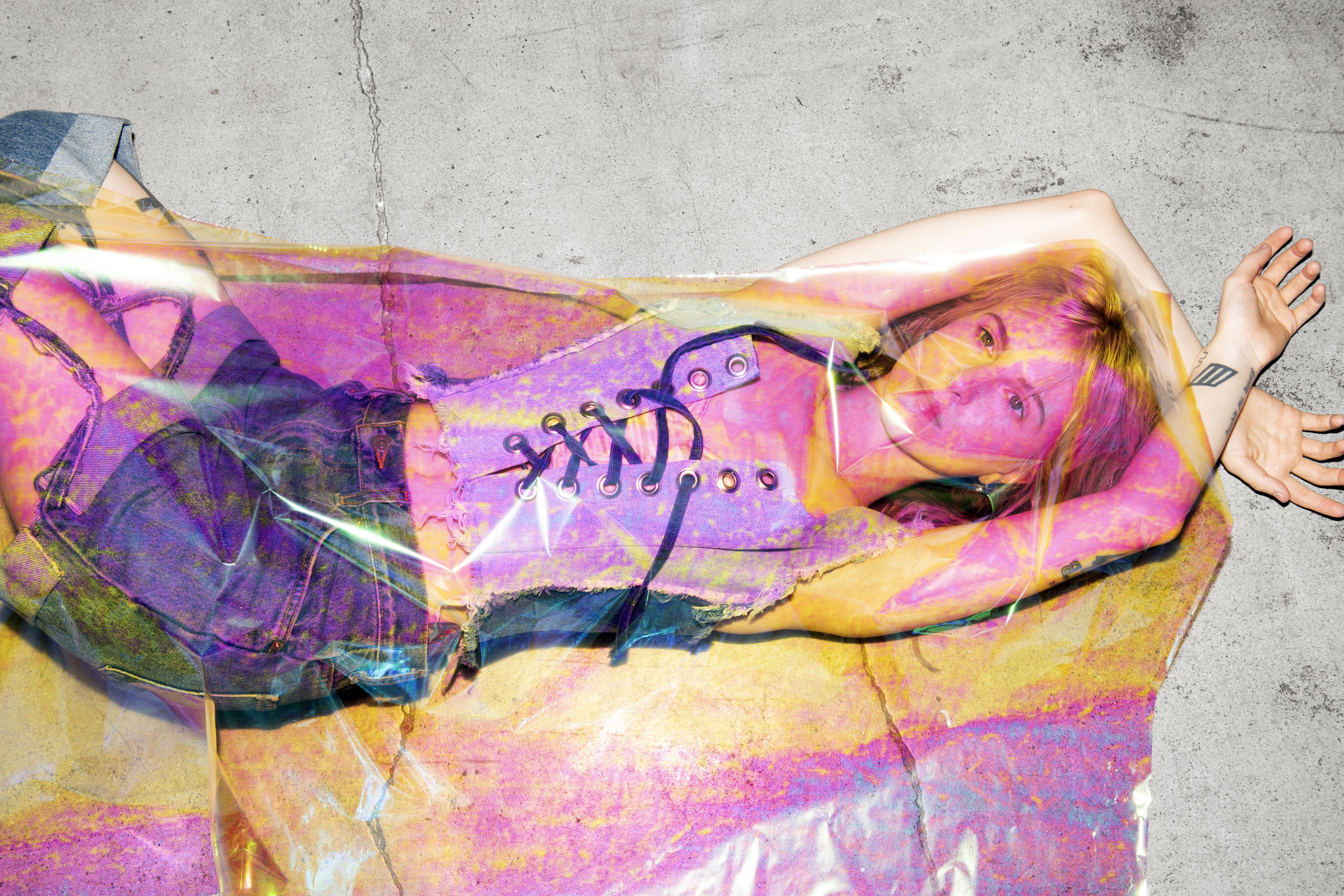 NME's El Hunt interviewed Hayley Williams about her new solo album Petals for Armor. The article introduces us to some unpublished promotional photos taken by the album's creative director and photographer, Lindsey Byrnes. Hayley is on the cover of the second week of May issue of NME. 
Below there are some highlights, while here you can read the original NME article. 

"I love flowers," says Hayley Williams. "They're the oldest metaphor for rebirth and resilience."
Like most people, Hayley is holed up at home due to the lockdown. "I like my house to look like an English grandma with a cute garden might live in it," she beams, giving NME a makeshift tour and showing off various bouquets over video call.
Paramore formed as teenagers in Franklin, Tennessee in 2004 and quickly became darlings of the alternative rock scene. And, yes, behind the scenes Paramore have weathered more than their fair share of storms. In 2009, after the release of their third record 'Brand New Eyes', the Farro brothers – drummer Zac and lead guitarist Josh – dramatically quit the band, sharing a bitter exit statement in the process. Four years later, hot on the heels of the group's lauded self-titled album, bassist Jeremy Davis left. That same summer even Hayley secretly quit. For a time, guitarist Taylor York was the only remaining member of Paramore. Hayley later described 2015 as "the worst year" of her life.
"From the outside, 'Paramore' was our most successful record," she says now. "We won a Best Rock Song Grammy for 'Ain't It Fun' and I got engaged – all this insanely cool shit was happening. I spent most of my life trying to be so bulletproof and callous," she shrugs. "I learned more from becoming pretty helpless after that."
With Paramore's most recent album, 2017's 'After Laughter', which saw Zac Farro return to the band, Hayley began to confront that pain. Paramore crafted a new wave-inspired, neon-hued record that clashed light melodies with crushingly dark lyrics.
"I would say for a good half of that album, I was really in denial of my depression," Hayley says. As if she hadn't had enough to contend with, she was also in the midst of a divorce from Chad Gilbert, guitarist in the pop-punk band New Found Glory. Touring 'After Laughter' became an intense and often gruelling experience. "God, there were a couple of times where I was bawling my eyes out before the show," she admits.
Still, Williams held onto the positives during that tour (and particularly remembers one night in Berlin, when the band and crew "rallied around me to get me through the night", after she publicly announced her divorce). "What always amazed me," she says, "was that when the lights went up – even if I could still feel the heaviness – real joy would set in. It was confusing! Only now, in hindsight, can I understand. I was just starting to learn that as humans, one of the toughest and most vital lessons is: learn to hold both of those extremes. Make space for your deepest sorrow and your brightest joy. All of it can happen together."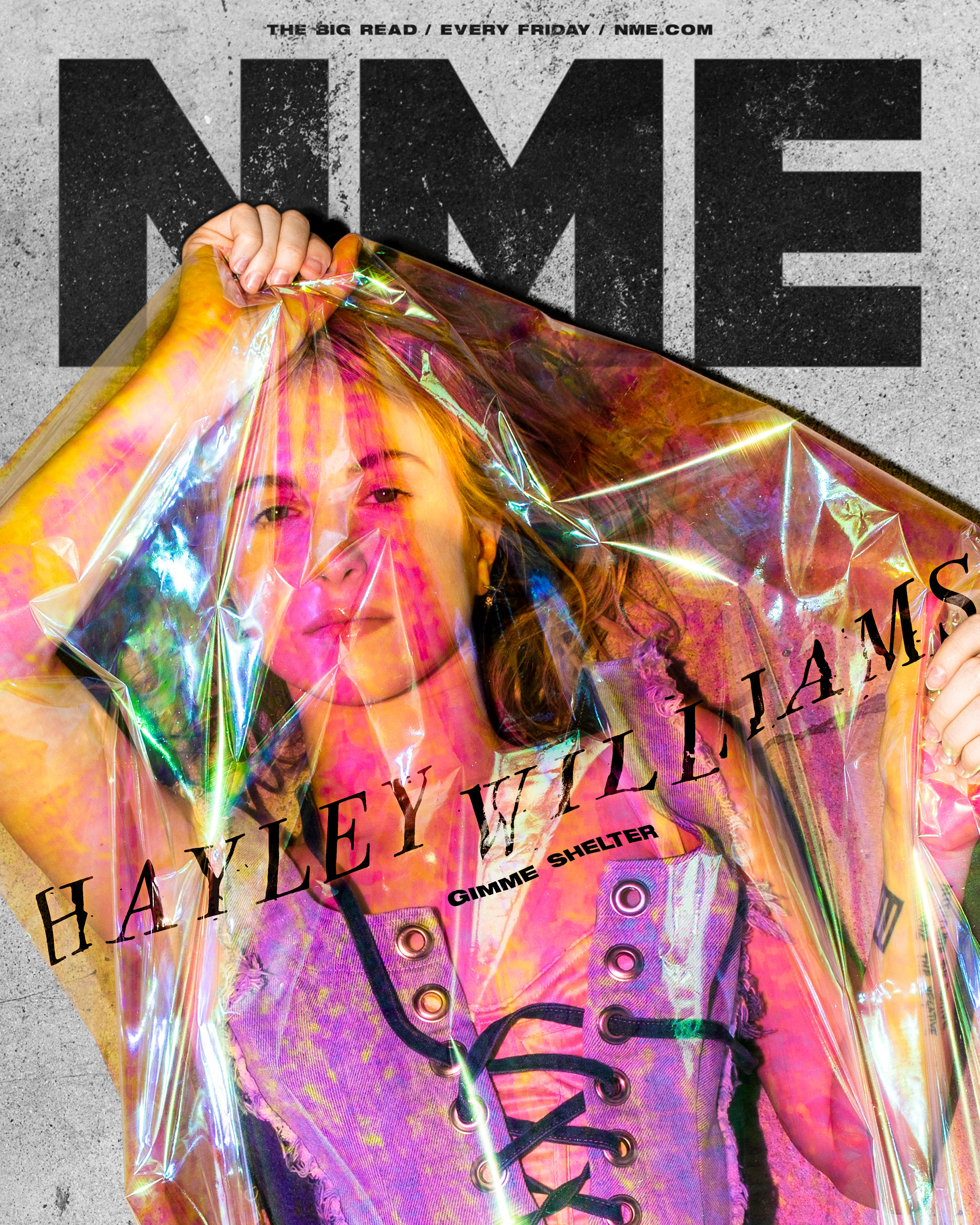 Three years ago – the same month in which Paramore released 'After Laughter' – Hayley Williams moved to the cottage that she's speaking to NME from today. She wanted to start afresh. "This house was infested with bats, it was dirty…" Hayley says. "It was like me at the time." She laughs wryly. "It needed a lot of exorcism. I had bought [that house] because I thought: 'This is going to be my life, and maybe I'll have children here'," she says now. "I was really gonna get domesticated." This place, she adds, "resonated with my spirit a lot more".
Off-camera, there's a sudden yapping disturbance – Alf has woken up. It certainly seems as if Hayley has created her own sanctuary, freed from the weight of what other people expected from her. "Yes," she nods. "It wasn't about trying to fit into this role of who I think I should be. There's more texture here, a bit more grit. There's something for me to take care of."
"What our bodies do by nature is barbaric," she points out. "Having a personality of sweetness that is safe to people? That's not femininity. Femininity is so much more dangerous than that." She grins. "I live for that part."
Williams adds that a French folktale called Bluebeard "changed my life". The tale concerns a young woman who has been married off to a controlling man. Disobeying him, she opens up a forbidden door in his house. Inside this fairy tale room, she finds the gruesome truth – Bluebeard has murdered all of his previous wives. She's next. And so with the help of her sisters, she kills him instead and inherits his castle. The story is an allegorical call to question and disobey patriarchal rules.
"Bluebeard changed my entire perception of why I had to leave a toxic situation," she explains, "and why I needed to figure out where my voice was coming from – what it sounded like, what it tasted like. People don't really like angry women. But angry women have brought about so much wonderful change for society. It gets judged so quickly, but women's rage has been such a catalyst for beautiful things, and it doesn't need to be depicted as monstrous."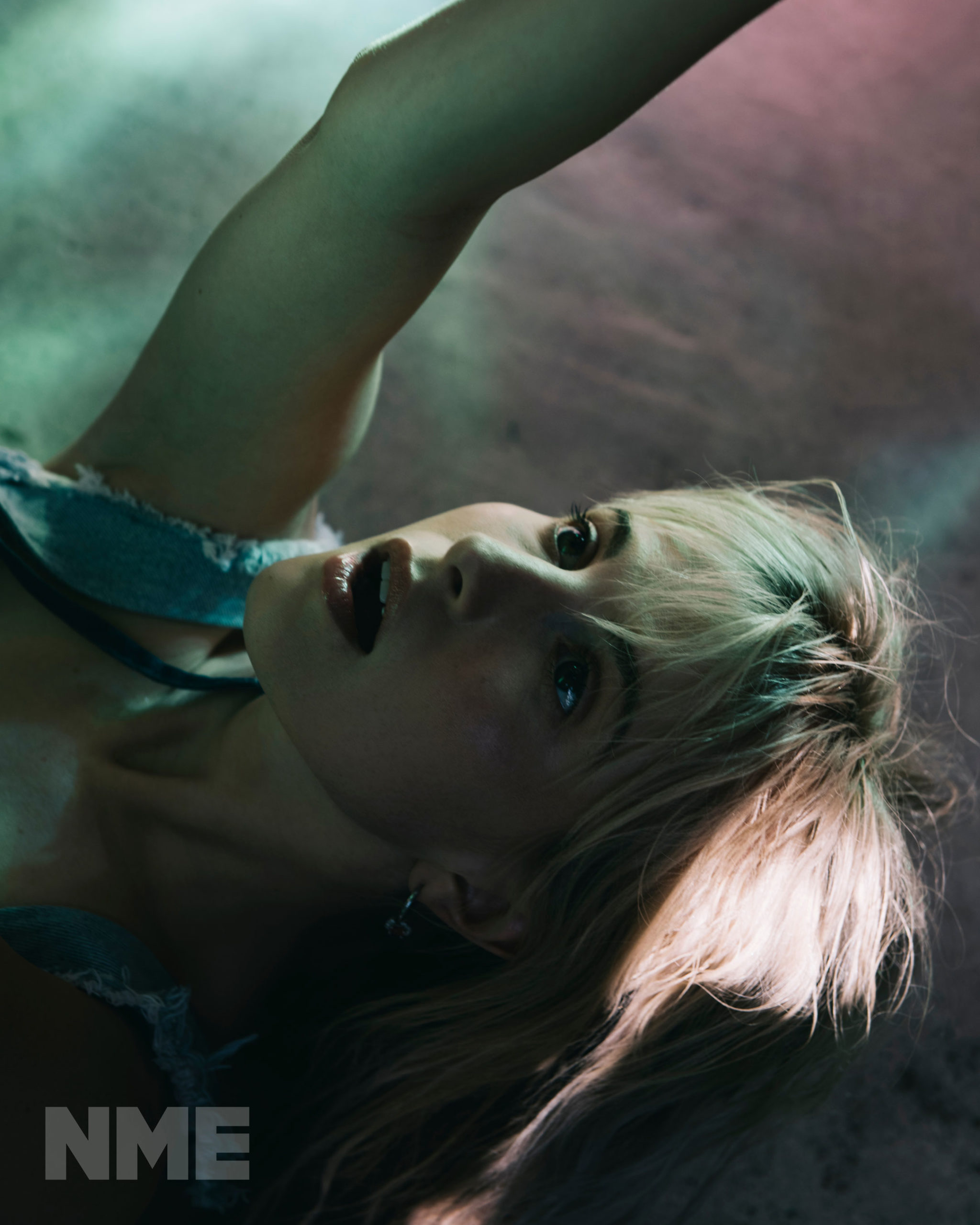 Referencing Gwen Stefani's 2004 hit, Hayley admits: "What I thought that people would predict [from my solo work] was another 'Hollaback Girl'. To be really candid – and I don't mean this in any offensive way – I really didn't want to be like Gwen. I felt a lot of anxiety about… do people want a crazy big pop record? What if this isn't that, and it's a letdown? When I ended up writing some songs that were poppier and dancier like 'Dead Horse', it was like, 'Oh shit – am I a sell-out?'"
Ultimately, she says, she feels trepidation about releasing music under her own name: "Either way it feels like you can't win because the position that lots of women are put in in this industry is that you can't convince everyone what kind of artist you are. You just have to go out and be it."
And so instead of penning a big pop record, she cast her ear back to artists who made her fall in love with music in the first place. Williams lived in Mississippi until she was 13. Her parents divorced when she was young and she later moved to Tennessee after the breakdown of her mum's second marriage. "There's a section of my life that I often forget, because it was shrouded in a lot of not-good stuff," she says. "I loved listening to R&B and soul: Missy Elliott, Erykah Badu, TLC. I was inspired by them even though I knew my reality was very different," she says.
"It's interesting to be 31, and to have written all these songs drawing from that well," she observes. "I remember walking into Good Vibrations, a record shop in Mississippi, with my dad when I was about eight. I heard [British soul band] Sade for the first time and that moment has never left me. Sade's grooves are so sexy, but they're tough: there was an overt feminine nature to them, but there were teeth, too."
And by extension, Hayley is also "honoured" when artists that sound nothing like Paramore cite her band as an influence. In particular, rapper Lil Uzi Vert's love of the group "means a lot to me", she says. "I am inspired by bands and artists that sound nothing like Paramore, too, and it goes into the soup that makes us who we are."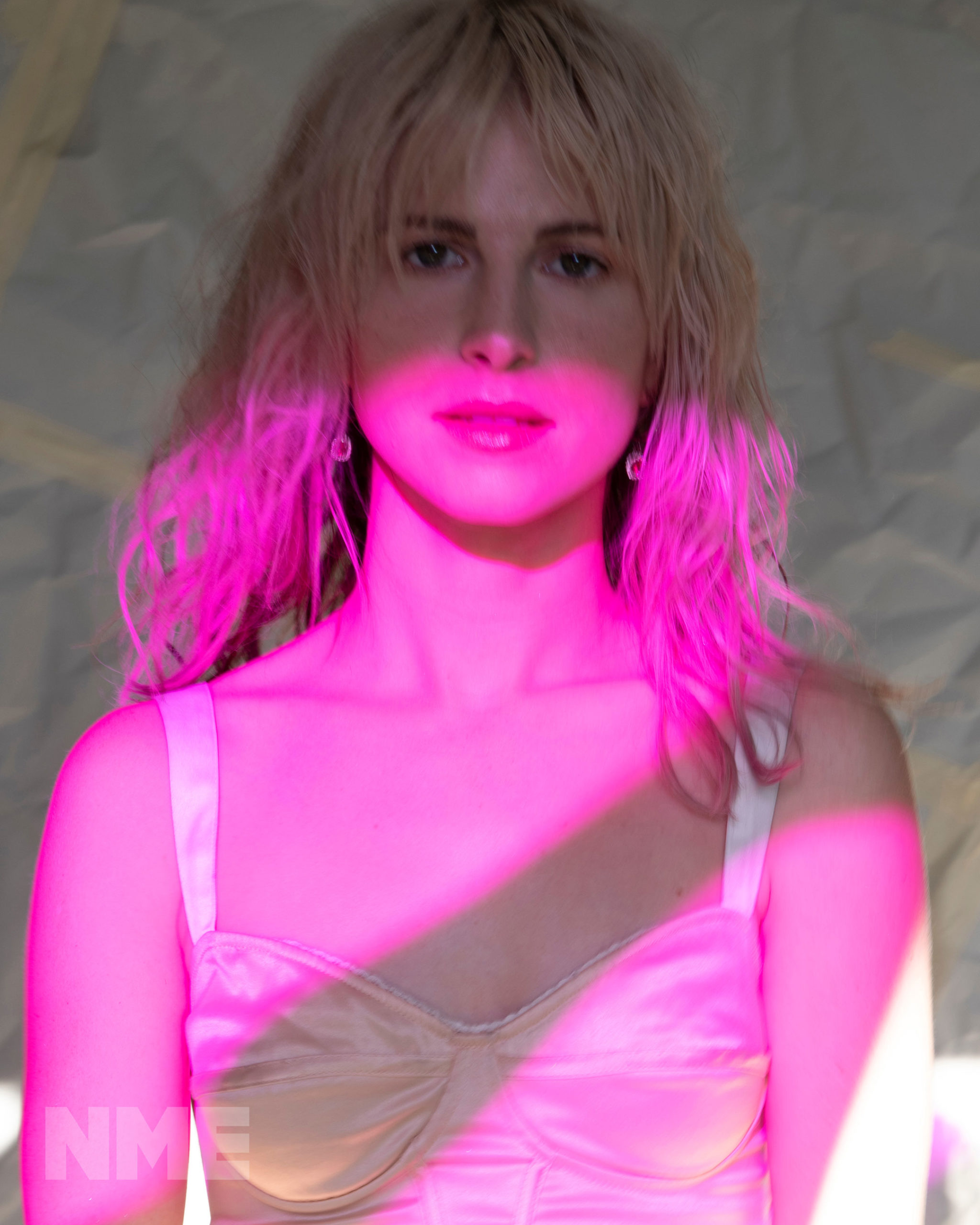 The peppy-sounding but searingly candid 'Dead Horse' lays things bare, referencing the affair that kickstarted Hayley' near-decade long relationship with Gilbert. "I got what I deserved / I was the other woman first," she sings. For a while, Hayley was hesitant to be this brutally honest.
"I did not want to write about my past that way," she admits, "I really didn't. I've never had a problem singing about the things that make me mad. I've done that with Paramore our whole career, but I've learned how to articulate it in different ways as we've grown up."
Pushing herself into uncomfortable territory, however, led to a breakthrough. "My angst and rage has been a protective layer for the softer sadness and shame that I feel," she says. "'Dead Horse' came just after ripping off the last band-aid. It was about finding this bubbling lava underneath a hard stone. It was like digging up bones. It kind of feels like my 21-year-old self wrote that song. I silenced her for a long time and covered it up with angst. I needed to get some of that shit out; a splinter of shame needed to get pulled."
"Now I'm doing this project which is so rooted in my discovery of my own femininity. I feel like giving people a break to think about why we made the choice to retire Misery Business was the first step. We grew up in such a fun scene, but I don't think a lot of the girls realized what we were inundated with day in, day out. I don't hate anybody for it – I was part of it. I just want to grow from it."
"When I go to Paramore's Spotify and I look at 'Fans Also Like', I don't really relate to any of the artists," she says. "It's no disrespect. A lot of those people I know, and have grown up with. It's more like, 'Oh wow, we didn't listen to anything that sounds like this'."
"We've thought about [the next Paramore album]," she explains. "Taylor's mentioned things like: 'Oh, God – I miss guitars. We've found ourselves listening to a lot of older music that we grew up being inspired by. T and I liked stuff that was a bit more ratty sounding: The Rapture, Yeah Yeah Yeahs. All three of us loved Queens Of The Stone Age's 'Songs For The Deaf.'"
The guitar sound will be an about-turn from the new wave-y 'After Laughter'. "It's a summer / winter thing," says Williams. "When it's winter you can't wait to be sweating your balls off, and in the summer you're like, 'Fuck – 'I hate this!' After making 'After Laughter' it's like, 'Okay, we've tried this on and it actually fits and feels great. Now lets see what else we can do to fuck this up'. That excitement and curiosity that keeps us a band. We won't let it happen unless we think it's the coolest thing in the world, I mean, Paramore's my favourite band. How dare I ever ruin it?"
Perhaps inevitably, this leads her to reflect on Paramore's shifting dynamic over the years: "God, getting older is such a weird thing. It's very nice to be able to grow up with these guys. We screwed around for a long time, and we made each other's lives miserable for a time there, but we make each other better people. I'm pumped."